You Can Now Buy Sour Patch Kids Ice Cream
You Can Now Buy Sour Patch Kids Ice Cream
So far, it's only been spotted at one place.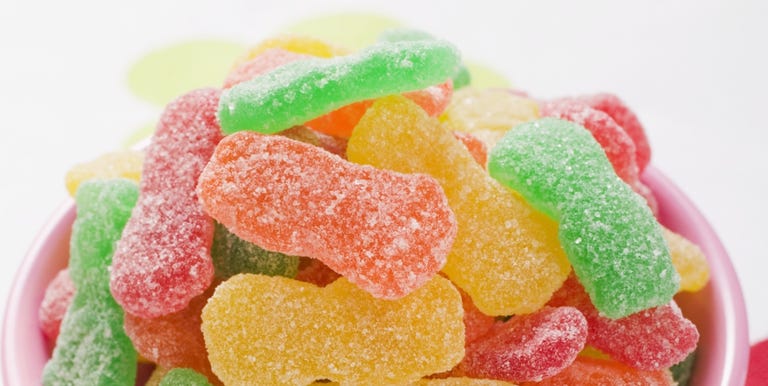 Less than a year after partnering with Baskin-Robbins to make Sour Patch Kids-infused ice cream, the candy company's expanding its reach, bringing a whole new variety to freezer aisles everywhere. This year's dessert seems tailor-made for summer — with a star-spangled lid and "Red, White, And Blue" as its official name — and it's going to be a total assault to your senses with all of the textures and flavors going on.
First, it's not just ice cream. No, this 1.5-quart tub is a mix of lemon sorbet and vanilla light ice cream. Second, it has a Redberry swirl snaking through it, which is essentially like liquid Sour Patch Kids. Third, it's studded with actual chunks of the gummy candy. Instagrammer Junk Food Mom reviewed the flavor, saying the Redberry swirl is really where the tartness comes in. "Yikes — if you get a spoonful of it, I guarantee your face will pucker up," she wrote.
So far, multiple Instagrammers have spotted the flavor at Walmart stores — and Junk Food Mom says it's made by Dreyer's — but we haven't received confirmation whether it's a Walmart exclusive, or if it's indeed made by the Nestle-owned company.
Sour Patch Kids has been dabbling with frozen treats for a while. In addition to the Baskin-Robbins flavor, Dippin' Dots has a Redberry Sherbet variety, and Popsicle sold ice pops inspired by the candy. This one, however, has the most potential to be polarizing, especially for people with strong opinions on mixing sour and sweet — or putting gummy candy in ice cream (which, inevitably, hardens and loses some of the chewy texture).
See Inside Rachael Ray's Hamptons House
Amy Schumer's Pasta And Wine Honeymoon
You Don't Have To Sign Receipts At Walmart
Jennifer Garner Was Adorably Tipsy Yesterday
Is Prince Charles Really Prince Harry's Dad?
This Water Bottle Doubles As A Wallet
Instagram Launched My 'Plus-Size' Modeling Career
Baby Wipes Linked to Child Food Allergies
This Woman's Fat-Shaming Boyfriend Is The Worst
This Royal Wedding Plate Got One Key Detail Wrong
This content was originally published here.